1
« on: March 06, 2012, 05:53:24 PM »
Hi, I am currently in the process of creating a BNR32 race car/tarmac rally car.
This is a result of me writing off my previous RS Legacy rally car near Danniverke on the last day of Targa 2011.
Car went from this: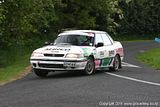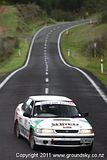 To this: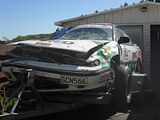 Basically I misjudged a blind crest, went over it at around 150km/hr and found it went left. We hit a rather solid strainer post at 120km/hr and flipped end over end. Car was too bent to recover unfortunately...
The new car is a combined effort between myself and my brother. He bought it as a crashed shell a couple of years back and has slowly rebuilt it including welding on a new left rear quarter and replacing most of the damaged panels.
Its currently RWD with an RB25DET box, RB30 block, 25DE head and manifolds and a hybrid TD06/7 turbo. But most of this is due to change with time.
I picked the car up looking like this: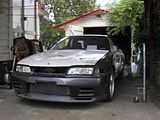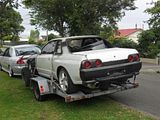 The car was originally white, but most of the panels were replaced with gunmetal parts due to lack of available white panels. Also there is MASSIVE crazing in the original white paint work, so its all in the process of getting stripped back and resprayed in white again: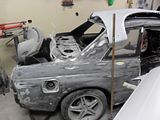 Primering was started last week: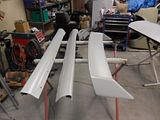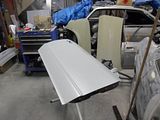 And I have also stripped the interior out in readiness for the cage install: